Wedding Albums | Houston and Destination Wedding Photographer
I have been wanting to post a blog about my Wedding albums for the longest time!  Today, I am finally getting around to it, and I am so excited to share.
I love love love my Wedding albums, and that is why all of my packages now include a Wedding album, a minimum of 6 hours of Photography on Wedding day + Files, and an engagement session!  I think albums are so important, and these are not your parents' Wedding albums!
The Wedding albums I use either have beautiful linen or Italian leather covers, bound books, with completely unique designed specifically to each Wedding.
Here are my two most recent albums that I think turned out so beautifully.  These are some of my largest albums, the 12×12 inch black leather album.
Couples have the option to have their names, adding the date, or changing the color of their album. The albums are a great focal point to put in a new home on the coffee table, and I've heard many couples call it their first family heirloom that they will be able to show their children and eventually pass it down to them.  No more albums filled with slots where the photos can slide in!
The books lay flat onto the table to minimize any creases seen in the middle of the pages.  Putting a photo across two pages gives a huge impact and shows the importance of that photo to the couple!
Spreads can be filled with images of all the details of the day or fun candids of dancing or they can have a few simple images of the Bride coming down the isle and the Groom's face when he first sees her.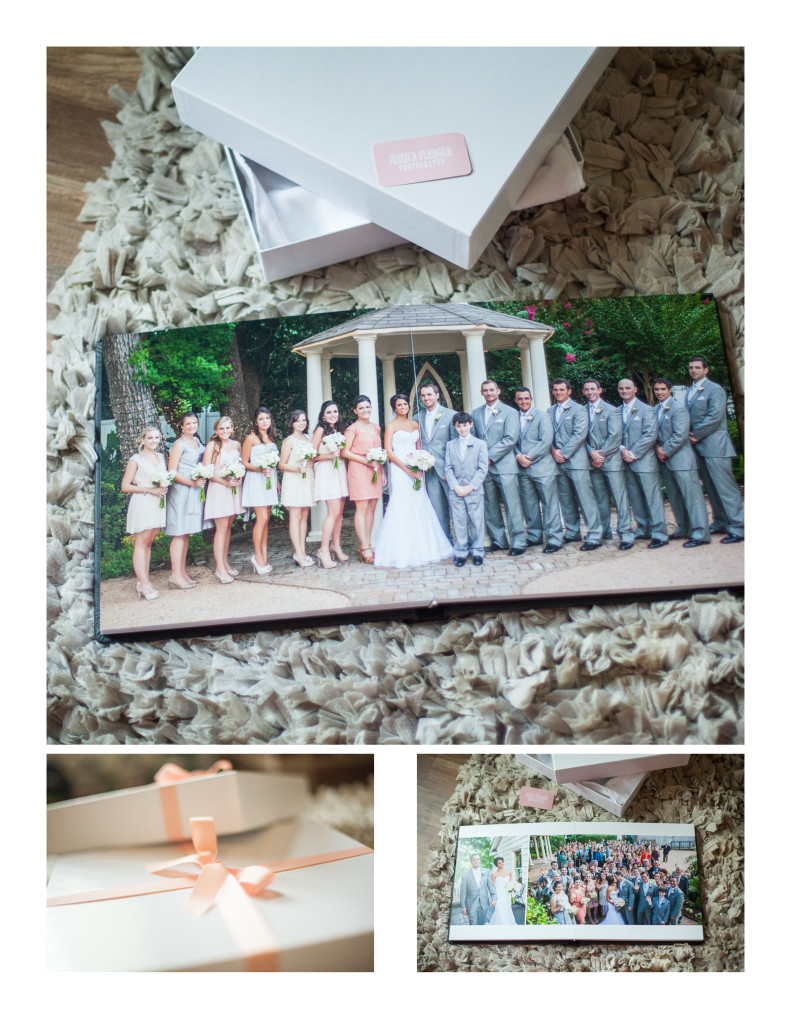 I prefer to keep the album designs simple, and this often means narrowing the hundreds of photos you have from the Wedding into 20-30 (and I can help with that!) to create the story of your day!  And I don't order it till you love it!
Jessica Pledger Photography
www.jessicapledger.com
Houston Wedding Photographer
713-775-8051
-The photos seen in the albums above were taken at Butler's Courtyard in League City and at the Galveston 1880 Garten Verein, two beautiful venues. –