How to Download your Digital Files
At the beginning of 2015, I moved to digital downloads of images directly from Client's albums.  This way my clients could download their images as soon as they were ready and e-mailed to them.  This also allows them to share the album with family, so that they can download them, as well.
The images available in the album are all full-size, which makes them fairly large.  This means they should probably be downloaded directly to a computer or a space with enough storage.  I also recommend making back-ups on an external hard-drive or flash drive, because hard drives do crash.
Here are some instructions on how you can download your Images onto a Personal Computer or laptop that runs Windows.  I think the instructions for Macs would be fairly similar.
Step 1. Open E-mail and click link to the Gallery-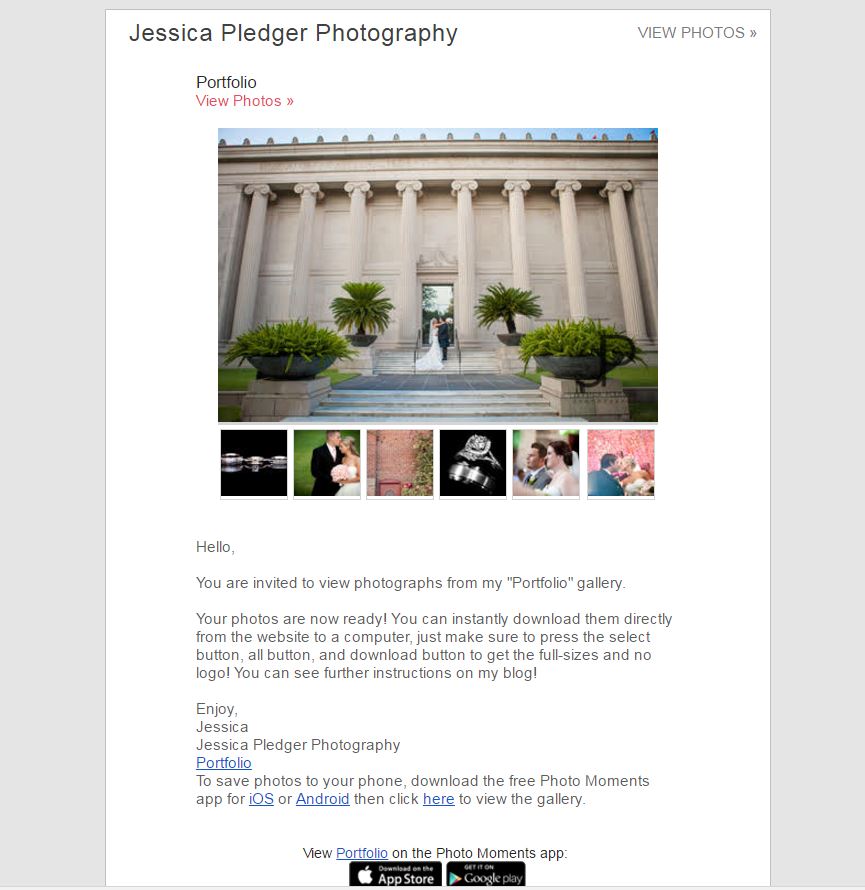 Step 2. Once the album has opened in a new browser, click the "Select Photos" Button
Step 3. Click the "All" Button
Step 4. Click the "Download" Button
Now, Give the computer a second to process, and it will start downloading all the images from the album.  There are a lot and they are large files, so allow up to an hour or more depending on how fast your internet connection is.  On Google Chrome, there is a notification at the bottom left of the web browser that shows me how much time the download has left and once it is done.
Step 5-6. Once the download has completed, open your Downloads folder. Right click on the file with your album title and select "Extract All…" 
Step 7. The destination folder will be defaulted, now click on "Extract."
Step 8. Once extraction has completed, a folder with your extracted files will pop up.
NOTE: These are the full-size images with no logo.  These are the images you should use for printing.
An exciting feature the gallery offers, as well is to view your images from an app on your phone.  To do that, you download the Photo Moments app first.  It should look like this in your App Store:
Then, I go back to your gallery e-mail (on your phone with the app on it) and click on the bottom link where it says:
View 
Blah Blah Blah Photos
 on the Photo Moments app:          …and click on that link.
Then this should pop-up in your browser-
Once, you click on the link, you should get a new window opens and there should be a button that opens that says [View Photos in the App].  That should then download all the images into your app. It will ask Do you want to add these photos to Photo Moments?, and you click Yes. Once it is done, You should see the gallery on your phone. Just enter your name and e-mail to use it. It will kinda go through a little teaching thing at first, but then you can just view all your images.  You can share pictures and show people the photos easily from your phone, but it is important not to print any photos using the files on your phone.  Your phone messaging, the app, facebook downgrades the quality of images to a small size to help it load faster.  You can download the full sizes directly from the gallery as mentioned above, but just make sure to download to a computer since they are so large.  Your phone probably doesn't have enough space for the full-album.